By Brett Essler
Today was nuts and I had no time to dedicate to SuperHeavy. I did Google "SuperHeavy + Interview" though, just so I would feel like I contributed something to the exercise.
The first search result was a GQ interview with Dave Stewart and Mick Jagger that mostly confirms what you would expect: that they made these songs up on the spot in the studio. And that they were drinking martinis.
Perhaps the most revealing thing in the piece was the illustration, in which A.R. Rahman is sporting a keytar. I wondered, did the illustrator have a source image of this or was this artistic license? Back to Google ("A.R. Rahman + Keytar" anyone?).
I am directed to an incredible YouTube video from a 2010 Toronto performance of "Chaiya Chaiya" featuring not only Rahman coaxing what sounds like a bagpipe out of his back-breakingly huge keytar, but one of the craziest live yoga demonstrations I have ever seen.
In a rare convergence of my inner thoughts and actual YouTube user comments: "Rahman is on the keytar!" and "who's this lady?????"
This of course sent me down a keytar rabbit hole. My wife tells me about the awesome batting glove-wearing funk keytarist at the Staten Island Ferry station, we reminisce about some of music's great keytar wranglers (Stevie Wonder, Herbie Hancock, Donald Fagen, Lady GaGa), and, of course, we return to the best data visualization the Internet has produced in recent memory, "Platypus playing a keytar."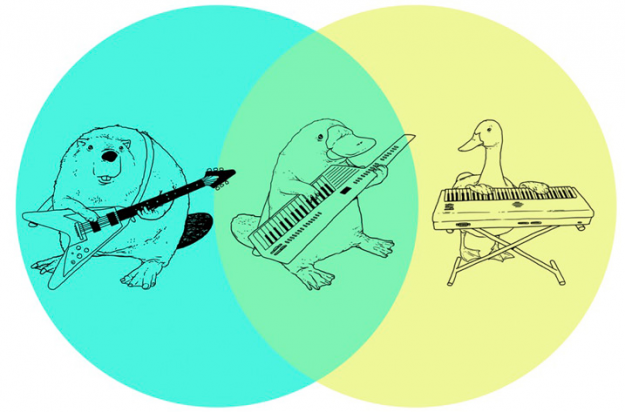 Thank you, SuperHeavy, for this distraction.